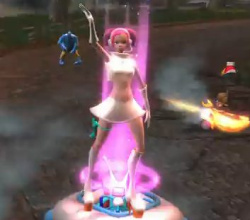 Up, Down, Up, Down, Chu, Chu, Chu!
More characters to be revealed
Sega have released another trailer of the racer being developed by Sumo Digital, showing off Ulala from Dreamcast game
Space Channel 5
and
Crazy Taxi
's BD Joe, which received a rather good GameCube conversion a few years back.
It's been announced there will be 24 tracks in total, a healthy amount though just shy of Mario Kart Wii. Sumo Digital have also revealed some tidbits on Sonic Stadium's forum: the DS game will have an exclusive Crush 40 music track, all versions bar the DS version will have track designer ghosts to beat and there will be no snaking in the game. The online mode on Wii version will not support Wii Speak and Sumo are working to make the online as cheat-free as possible.
They have also said on the forum there are four more characters yet to be announced. Let the speculation commence!