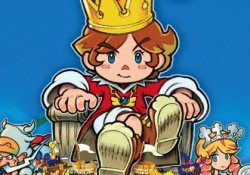 Ousama Monogatari - Little King's Story
Real time strategy game
Rising Star Games is a publisher that has brought many of the games for gamers to the Wii with titles such as
Little King's Story
and
No More Heroes
. Unfortunately, quality does not equal sales and Marvelous Entertainment, a developer and publisher in its own right, has recently sold its 50% stake in the company following less than impressive results.
The stock has been sold to Intergrow, a Japanese digital entertainment company which now holds stakes in two publishing models, with Gamebridge being the other company on its books.
Marvelous now intend to shift to a licensing model for distribution outside of Asia, allowing all Western publishers to bid for the rights to publish their games.
This move does not signal the end for Rising Star Games, who will be able to bid for any Marvelous title that they wish, nor does it indicate that us Westerners will no longer continue to receive localised versions of quality Japanese titles. It is a shame to hear that yet another publisher is experiencing difficulties in trying to reach out to the Wii audience, especially one responsible for bringing some very unique and endearing titles to the console.