[xFLOAT=left]http://www.wiichat.com/robry/classiccontroladdon.jpg[/xFLOAT]We've seen some pretty bizarre peripherals for the Wii since it launched. Anyone seen that Golf club and Tennis racket set in stores? Yes, we did as well and it's hideous and pointless! Nevertheless peripheral company Nyko have come up with an interesting device called the Classic Controller Grip which aids those lengthy retro-gaming sessions.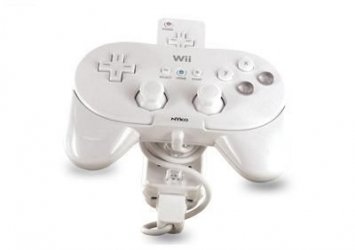 ​
The company claims that the Classic Controller is annoying for gamers due to the fact it has to be plugged into the Wii remote while in use, which as a result can cause tangling of the wires.
So then, how do we fix this one? Well the Classic Controller Grip is a bracket that fits to the underside of the Classic Controller which will grip the Wii remote and wires to ensure it is all nice and tidy!
You can purchase this right now in stores for $14.99 (£7.50 in old money). But then really do you want to spend your pocket money on this plastic? No, didn't think so...