WiiChat Member
Staff member
Dec 15, 2006
1,451
17
Wii Online Code

0409-5781-9484-0073
I'm sure about half of the Wiichat community has purchased a copy of Super Mario Galaxy on the Wii. After getting news that the game was the best reviewed game in our rich history of gaming, I decided to take a shot and buy it.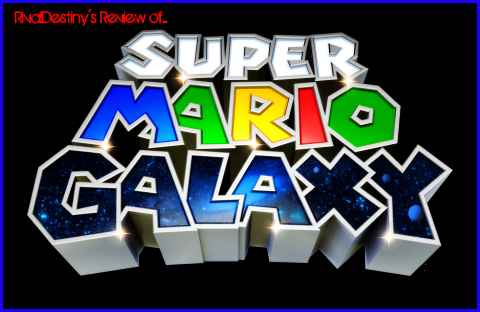 Price:
$49.99
Rating:
E
Length:
15-40 hours
Replay Value:
High
Average Score:
97.7/100 (A)
Gameplay:
9.5/10
If you have ever played a 3-D Mario game, you'll be looking at the same concept. Except this time, you'll be using the wiimote. Much like Super Mario 64, you will have to reach a certain hub to access the levels. Each hub consists of 4-6 different levels, or what they call in this game, galaxies. Each galaxy is filled with stars that you must collect to unlock more galaxies to come. To complete the level totally, you must obtain 3 stars and sometimes there will be a "bonus" level, for example, a timed level. Each galaxy, or level, will involve a boss battle, by completing this level, you will obtain a Grand Star. Grand Stars are used to unlock other hubs, resulting in more galaxies to explore. There a total of 42 galaxies, so you will not be disappointed.
The levels inside the galaxies involve some puzzles, but they won't be any of a challenge to figure out. Oddly though, they can be very fun and intriguing. If you have ever played any Mario game, I'm sure you will know how Mario kicks ass against the monsters. A simple jump on the head could do it, but I like to do what I call a "BOOT!" Simply stun the enemy by spinning and walk straight into it, making Mario kick the monster a few feet in front of you! OH THE JOY! Also, there are two new suits, the Bee costume and the ghost costume, both refreshing and something that would give you a little laugh.
I wonder how the wings could support his weight..
Well let's see here...if you're in the galaxy...doesn't gravity affect anything? The answer is yes. Each planet inside each galaxy has it's own gravity. A galaxy may have planetoids where you can walk anywhere where you see land. At first though, it may be hard to navigate through the levels, as the positioning of Mario can be difficult. Soon though, it will feel as the game was meant for you and will become a second nature. The gameplay will leave you guessing on what challenge you may encounter next or what you may have to do. Accompanied by timed trials, races, and other bonuses will keep you playing.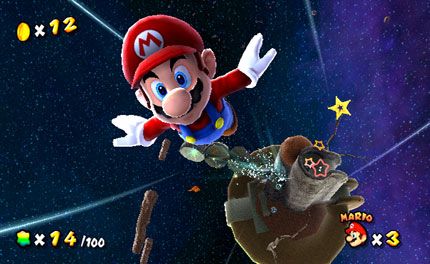 Transition between planets
Graphics:
10/10
The visuals are AMAZING to see. I was amazed to see what the Wii could put out in only 480p. Each planet has it's own theme, and it doesn't repeat itself over and over again. Every ascept of art is included, blur, lighting effects, contrasts, and more. At times, the graphics in this games seem to actually be up there with the PS3 or X360. The theme of the game will be what you expect from past and old Mario games. If you're looking for the best graphics on the Wii, look no further.

Run Mario, Run Mario!!
Story:
7/10
If you ever played a Mario game, don't except anything groundbreaking or anything that will keep your mind on. The story is well...the same. Bowser comes, steals princess, you rescue a useless, overdressed, high-pitched princess. Although, Mario games aren't for the story, as it doesn't tie in at all in my opinion. There is also a side story that can accessed toward the beginning of the game, but it's a little disappointing. Don't except much from the story.

See this guy? Yeah, he's the reason why you're playing the game.
Sound:
10/10
The soundtracks for this game cannot be beat. Each galaxy is accompanied with a it's own theme song, and boy, it fits in perfectly. You'll also encounter some classic theme songs scattered across all Mario games.
Voice acting is missing, but then again I couldn't imagine how Mario or the cast would sound like -.-. But one voice that we'll always remember...YAAAA..HOO!! If you ever get a chance to get a sample of music from this game, check it out.
Length:
9/10
This is the first game that has shown me a good quality game that will keep me going for months to come. Even though the game only takes 60 stars to beat, you can collect all 120 stars. The levels are fun enough to replay over and over again. And you could always try to beat records in the timed levels. Or maybe hit up some racing with the manatee-looking-guys. Not only that, but you'll get a secret character after you beat the game. I'm only about 8 hours in, but it's a great game to play and something that will keep my occupied for weeks and months.
Overall:
Gameplay:
9.5/10
Graphics:
10/10
Sound:
10/10
Story:
7/10
Length:
9/10
Final Score:
9.6/10
Rent or Buy?
Buy
Comments on the review would be appreciated.
Last edited: