Feb 7, 2007
1,651
2
Wii Online Code

0000-0000-0000-0000
Blast this big bad boy in February

Sega makes a date

The news of

Conduit 2's delay until 2011

was met with more understanding than usual: any time spent polishing the promising FPS should be welcomed.

Now Sega has announced the game will make its big entrance in February 2011, with support for

PDP's Headbanger headset

alongside a dual analogue control scheme for Classic Controller users.

Let's hope the extra development time means Conduit 2 can live up to its potential.

Come next year, you'll have the chance to play the epic sequel to last year's award-winning Wii-exclusive, The Conduit. With the overwhelming positive response at both E3 and PAX, High Voltage Software came up with new ideas and took in fan feedback. Because of this, the game is extending its development a few more months in order to bring players the most complete shooter on Wii. Conduit 2 will support the new Headbanger Headset for Wii , classic controllers and features additional modes, weapons and epic boss fights!

Picking up on the heels of its predecessor, Conduit 2 puts you on the embattled front lines of the war to save humanity from the alien onslaught. Travel to the far ends of the earth to put an end to the struggle. The enemy is everywhere and the deck is stacked -- trust no one. Turn the tide with the most powerful arsenal ever assembled, and bring the alien menace to its knees.

Conduit 2 is set to release February 2011 exclusively for Wii. The rating for the game is currently pending. For more information on the game, please visit the SEGA website at

www.conduit2game.com

.

​
New Conduit 2 Trailer Suitably Full of Bombs, Bullets and Bombast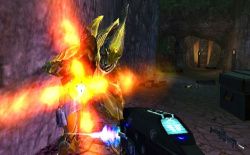 More action than you can shake a Carbonizer at

Let the action commence Conduit 2 will launch in February

, but you can get yourself all geared up in advance with this new trailer showing off some of the new weapons and arenas available in the upcoming sequel.

Conduit 2

looks like maintaining the prequel's reputation for outstanding graphics: if it can improve on some of the things

The Conduit

got wrong this could be a strong contender for the Wii FPS crown.

Sega claims it's "Bigger, Bolder, Better" – judge for yourself with this trailer.
View the trailer at
http://www.youtube.com/watch?v=nA8gF8KNrXs&feature=player_embedded
I think I might even buy this, this looks so badass.
Last edited: