As you enter the next room, turn left and shoot the spiders resting on the vine covered wall. Then jump across and climb your way up to the door and go through it.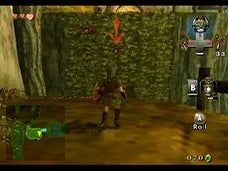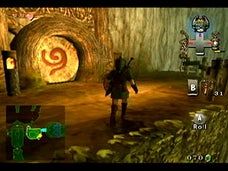 You'll see a plant creature eat a small key and it's up to you to get it back (and no, Link doesn't beg to be eaten, MIB style). Simple strafe around the plant and wait for it to slam its head towards you onto the ground. Evade the attack and then slash at it while it recovers from the missed pounding. Repeat this a few times to destroy that portion of the plant. Now simply grab one of the two spider-bombs on the southern end of the room, and throw it into the remaining portion of the plant to reveal the
small key
. Use it to unlock the cage in the south end of the room. Now exit the room through the way you came in.
** THIS IS WHERE IM STUCK I EXIT AND LOOK TO THE LEFT AND THE SPIDER ON THE WALL ISN'T THERE CAUSE I KILLED IT EARLIER AND THEN I GO THROUGH THE DOOR ANYWAY AND THE PLANT ISN'T THERE TO EAT THE KEY FOR ME TO RETRIEVE..
IM VERY FRUSTRATED WITH THE GAME AND AM IN NEED OF ASSISTANCE IN A BIG WAYYYYYY !!